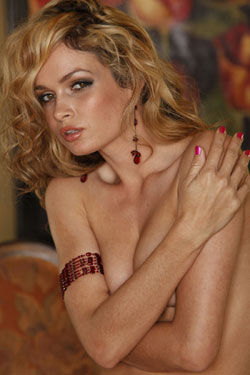 It is very unusual for critics to agree on anything, but on the subject on Girlfriends Films contract star Prinzzess Felicity Jade there is definitely a consensus that she is someone very special:
'Critics have long been praising Prinzzess' performances for Girlfriends Films. AVN's Ben Atrophis dubs Prinzzess a "superstar". XCritic.com reviewer Apache Warrior says Prinzzess "sizzles on screen". Prinzzess "grabs viewers' attention immediately" becoming "carved into the viewer's mind." AdultDVDTalk.com reviewer Mstrhole writes, "Prinzzess is always fun to watch. She's so cute when she cums…Prinzzess is Prinzzess, and that generally means a lot of heat."'
One thing I noticed while Prinzzess was dancing is that there seemed to be more female patrons in the club then what I would normally expect. Since I had never been to The Candy Store before I asked the manager if perhaps this was normal for this club. He said "We the occasional couple it is not normally this many and almost all of them asked when Prinzzess was going on stage when they walked in."
Everyone seems to know that she genuinely likes women and they love her for it. The two nights I was there I don't think there was a set in which there was not a couple at the tip rail. One woman even brought her brother to the club for his 21st birthday.
Between sets we go to a secluded corner in the club and talk about her life and how she ended up here:
Is this the first time you have danced at the Candy Store?
Prinzzess – Yes, first time doing anything in this city... This state as a matter of fact.
You live in Florida do you dance very often there?
Prinzzess – I have been to about four clubs that I can think of off the top of my head.
What is your favorite club to dance at in Florida?
Prinzzess – Tootsies in Miami.
What is your favorite club you have danced at period?
Prinzzess – I actually have a list. I have a lot of favorites though Tootsies is up there. I really like it because I can drive there from home and I don't have to fly.
Tell me about growing up a Seventh Day Adventist Missionary in an Amish Village?
Prinzzess – I was six and my parents decided to do the missionary thing. We picked an English speaking country, Belize. My dad was helping build churches, schools and whatever else. When I was ten we moved into the Amish community. It was a beautiful place. That is how I ended up there.
How was it growing up in an Amish village?
Prinzzess – It was weird because my parents, being strict, we had to dress modest any way. We were their friends and neighbors but we did not go to church with them so we did not really get involved with them.
Now you were home schooled?
Prinzzess – Yes, I went to a regular school in Wisconsin when I was 15 for one semester but other than that I was home schooled. Though I did graduate High School I do not have a GED it is a regular High School diploma.
Did you go to school down in the Amish community?
Prinzzess – Very briefly, it was mostly home schooling.
You have said that you were very shy when you first left home.
Prinzzess – I was shy all my life. I was the girl who would ask my sister to go ask for something because I was afraid someone would say no. I guess I tried to get out of that right as I turned 18 and it has slowly worn off over the years.
Do you think home schooling is a good idea?
Prinzzess – I would say I wish I would have gone to a public school. I liked being home schooled but I think I would have had more friends and been more outgoing had I gone to public school. My parents were way too restrictive, which is why I do what I do.
When you have children of your own what will you do with them?
Prinzzess – I don't believe I will ever have kids of my own. I am not into the kid thing. Maybe I will adopt a two year old or something but I am not into the baby thing.
You have to pass those genetics on.
Prinzzess – I will let my sister do that. (she is sitting next to her)
We may want to pass that buy her first.
Prinzzess – My sister is really cute.
Oh no she is a very beautiful woman we just may want to get her opinion on that.
(editor's note: Cherokee would like to have two children one boy and one girl.)