Kaylani Lei - Last Call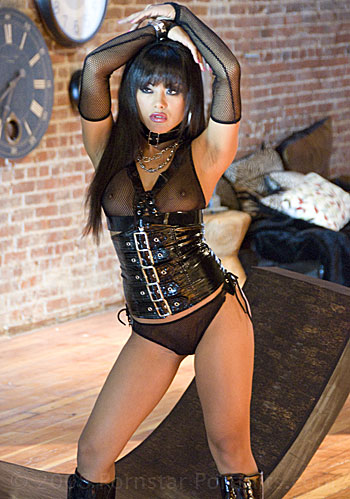 Kaylani Lei - Aren't you going to ask me what my name is?
Her name is Kaylani Lei. Actually half the time I'm not sure if Kaylani Lee or Kaylani Lei which one is it?
Kaylani Lei - It is to lay L-E-I. They mispronounce it all the time is has gotten so bad that when I dance and I give the DJ my bio I have it written out pronounced "L-A-Y" and they still get it wrong.
I watched the movie Carpool
Kaylani Lei - Really? Even I haven't seen it.
Yes and my only question from it was from behind the scenes and is why is it I never get to do your interviews in the shower?
Kaylani Lei - Really? I did an interview in the shower? I don't remember that.
Your dog's name is Tina?
Kaylani Lei - YES! Tina Tina Tina every time someone talks about her I get so happy. I love her so much!
What is this about her humping stuffed animals?
Kaylani Lei - Does it show that?
Yes
Kaylani Lei - no way! where?
In the behind the scenes repeatedly. Every now and then it cuts to one little dog watching Tina humping away and all you see are these two little stuffed feet sticking out from between her legs.
Kaylani Lei - No way :) That is so funny but yes Tina likes to pump stuffed animals. Go to my house and you would swear I have a kid because there are stuffed animals everywhere of all shapes and sizes...
Shelby - All slightly moist.
Kaylani Lei - Yes, All from my dog.
Note to self do not give Kaylani any stuffed animals.
Kaylani Lei - No, that is fine because I will give them to my dog. Like this one time my friend got some roses and a stuffed animal from her boyfriend, because he had fucked up, and she goes "I don't want this fucking thing" and she throws it. So my dog goes and humps it. It was awesome. So now it is my dogs fuck buddy.
So the only reason guys give girls flowers is when they fuck up?
Shelby - Pretty much!
Kaylani Lei - Yeah that is what I said and yeah pretty much yes.
Shelby - I am going to be Kaylani's translator for the rest of this interview.
Note to self - get Kaylani some flowers to prove to her not all guys only send flowers when they fuck up.
Kaylani Lei - No, get me stuffed animals and I will give it to my dog. Even for Easter I went to Target and got her one of those really large oversized stuffed animals and they all sleep on it.
Change of plans. Go to Build a Bear and make a bear for Tina with a shirt that says "Tina's Fuck Doll" on it.
Shelby - And put in one those vibrating eggs so that it will vibrate for her.
Kaylani Lei - That would be SO GREAT. My poor Tina when people mention her and I am not prepared I get so choked up.
I am surprised you did not bring your dogs with you?
Kaylani Lei - I know but the last time I brought them..Ochi is the one who pees and poops everywhere. Tina does not but Bear (Wicked Crew member) was stuck picking the poopies up. If I just brought Tina it would be fine.
But then they would get mad at you for leaving one of them behind.
Kaylani Lei - No actually a lot of times when we go on walks Ochi will not come he will just stay in the house.
Shelby - And play with her toys?
Kaylani Lei - No that is Tina. Ochi humps Tina and Tina humps toys.
How was it spending 5 hours in a car filming?
Kaylani Lei - It was really hot that day and we could not have the A/C on because of the sound. And we all had business suits on and jackets. I really felt bad for Herschel Savage because he had a full on suit with a tie and everything. The poor thing. But it was fun.
Are you the way to Heaven?
Kaylani Lei - Yes absolutely! I am heaven. :) I am heaven in your mouth.
Have you ever had sex in a real subway.
Kaylani Lei - No way they are gross.
Oracle is doing really well.
Kaylani Lei - I LOVE that movie.
How was it doing the masturbation scene?
Kaylani Lei - That was one of my favorite scenes because it was not like they gave me a huge pink dildo and got me in a bunch of weird positions because that is how we all masturbate at home.
Of course.
**Christine and Kaylani laughing**