Alektra Blue - Last Call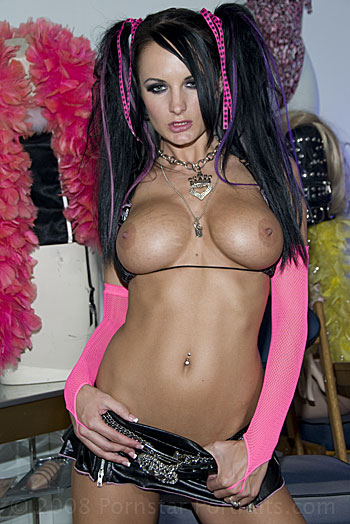 Is that the quickest scene you have ever done?
Alektra Blue - Probably yes. It was like four minutes. It took me probably 35 minutes longer to do my makeup than it did to do the scene.
Is that solo scene the only thing you are doing for Last Call?
Alektra Blue - Later tonight I'm doing a double blow job with Mikayla and Brad. We're going to do it as we come back in from the nightclub or party.
I was only on set one day for your first Wicked feature (Alektrafied). How did that end up turning out?
Alektra Blue - Alektrafied turned out really well. I am happy it was really really hot and all the setups were really really cool. I can't wait to shoot the box cover I do not know what we're doing for it yet or when but I'm excited for it to come out.
Do you know when it's coming out?
Alektra Blue - I have no idea maybe in September or October.
How did the scene turnout on the roof?
Alektra Blue - It turned out really cool but it was not a scene it was just me on the rooftop turning on and off thre electricity to the city with the city lights in the background going out.
What scenes did you do an Alektrafied?
Alektra Blue - I did a boy/boy/girl with Randy. I did a girl/girl/anal. I did a boy/girl/boy/girl and a boy/girl anal.
Are you shooting anything else soon?
Alektra Blue - I might be doing a movie for Michael Raven where I have witch powers but we are still talking about that one.
Were are you going this weekend?
Alektra Blue - I'm flying out to Vegas for pool party at the Palms for industry people and then Friday night is the Roller Dollz premiere for Zero Tolerance and Adam & Eve and on Saturday there is a lingerie pool party. The band the Mother Truckers will be out there as well performing. It should be really interesting and very good time.
Have you seen the movie yet?
Alektra Blue - No, I have not. I did a boy/girl with James Dean and I did a girl/girl/girl with Courtney Cummz and Mia Presley. And I roller skated a whole lot because a lot of the girls could not. The beginning of the movie is mostly me because there was only a few of us who could really skate and do stuff. Then during the match it was mostly me and Sunny Lane but most of the other girls could not skate.
Did any of the girls not know what roller skates were?
Alektra Blue - I think all of them knew what they were however Bree Olson, who is one of the main girls, could not even stand up in them. They tried having someone stand behind her for some of the shots however she was having too much trouble so they just did not use the footage. Then during the match she fell down and got hurt so most of her dialogue was while she was sitting on the ground. So she did not say much at all
So come the end of the year you could be sitting with Wicked yet hoping another company's movie will get nominated and possibly win as well?
Alektra Blue - I hope so it was a lot of fun shooting so I hope it will get nominated.
You have anything else coming up? Are you going on the road dancing anywhere soon?
Alektra Blue - I am not dancing right now because I'm just focusing on wicked and getting scenes done as fast as I can right now so we can get some stuff out. I am going on the road signing soon as part of the Roller Dollz movie promotion. Wicked is allowing me to go on that. Other than that not much.