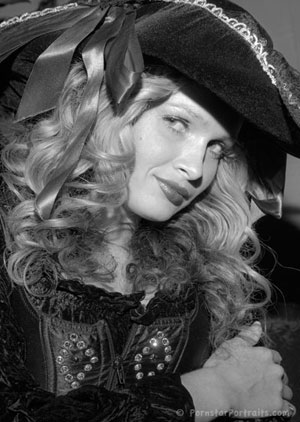 I read that you ran away from home?
Prinzzess – I left home and moved into with a friend just before I turned 17 while we were still in Belize. I lived with my friend for three months and then I moved in with some friends of my parents for about five months or so before I came back to the States and moved in with my granddad.
What was it like being a cashier at Publix?
Prinzzess – That was just a way to make money. It paid for my first car and it was something to do.
You started out modeling on One Model Place. How was that experience for you?
Prinzzess – That was amazing. I am still doing that and probably one of the few Pornstars who are still on OMP and available to work with regular photographers. They have to have the references and other models who can vouch for them but I still do work for regular photographers. I also won the OMP Model Of The Year back in 2006.
What makes a good photographer?
Prinzzess – Someone who knows their lighting and makes all their photos just look... WOW! They shoot 300 pictures but only need 50 and have a hard time deciding on the shots to get rid of to get the 50 they need.
What is it about Holly Randall that you like?
Prinzzess – All her pictures are amazing, she is a female photographer, she got me into Penthouse, I could go on and on. She is just amazing.
Suze is known for her rather creative way of speaking to her models, among other things, is Holly that way?
Prinzzess – Holly was like that a little bit. Suze has these cool ways of saying how to position a girl. Holly is not as much but you can tell they are related.
What was it like getting into Penthouse?
Prinzzess – When I went out to Los Angeles, I did not know I would get into Penthouse. I was just shooting, making money. In the middle of my shoot with Holly, Suze walks in and looks at me for about five minutes. Then she tells Holly "Shoot her a cover and a centerfold we are submitting her to Penthouse." I was like... is she serious? Sure enough I ended up in Penthouse shortly after.
Who first approached you about doing movies?
Prinzzess – I would not say there was a first approach. I came out to Los Angeles to model and my agent offered me one video. No one knows I started videos when I was 18 because there was only one and then I went back to solo. But my agent said it was available and I said sure. My limit has always been girl-girl and I have never changed my limit for what I would do. I did that but then I went back to doing just solo work until I starting working for Girlfriends Films.
What was the name of that first movie?
Prinzzess – That was Can You Be A Porn Star for Hustler Video.
Why did you say "yes"?
Prinzzess – I was going through 18 and I was looking to do as much crazy stuff as I could without sleeping with a bunch of guys so the way to do that was movies and magazines. I was only in LA for 13 days that time so there really was not time to do a lot of movies.
Who was your scene with?
Prinzzess – That was Jessica Jaymes.
Have you gotten a chance to work with Sophia Santi and Sunny Leone yet?
Prinzzess – NOT YET! Jenna Haze is now on my list but that one could be a possibility sometime soon.
Sunny Leone responds to Prinzzess' request to do a scene with her: "I am very flattered that she wants to work with me. I think she is very beautiful and hope I can work with her very soon."
Are we going to see a scene between you, your "wife" (Renee Perez) and your "girlfriend" (Kayden Kross)?
Prinzzess – I don't know, I think Renee is out of the business right now and with both me and Kayden under contract that would be difficult. But it would be a great scene.
Why is Alyssa Reese one of your favorites?
Prinzzess – She is one of those girls... her lips... she does something with her lips. They are so soft. They can give awsome orgasms. I love her lips. And her butt. And her personality. And her hair and... okay I will shut up now.
You just love Alyssa.
Prinzzess – Yes
But she is not your wife or your girlfriend?
Prinzzess – I just never approached her. I like India Summer too. But we are not ready to move to the next step for some reason.