Malice In La-La Land (Miss Lucifer/Harmony)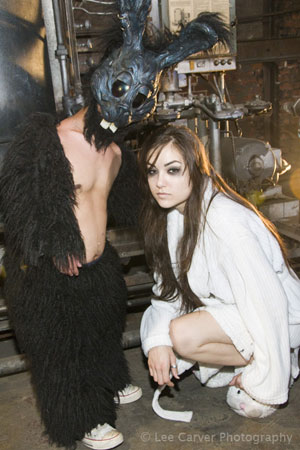 Malice In La-La Land is a 100,000 euro, 28 day 35mm inspiration of Miss Lucifer Director Pascal that is loosely based on two classic pieces of literature.
Today they are shooting at an old abandoned hospital in Los Angeles which will serve as the insane asylum that Malice must escape from. Luckily it is a daytime shoot as I am uncertain I would want to be here at night. The location has been used for several mainstream horror movies and it does not need any help to set that atmosphere. It does not help that several companies left rooms as they last used them (i.e. covered in blood).
While they are setting up for the next sequence of shots in the boiler room I spend a few minutes talking to Pascal about the movie:
Did you come up with the concept for this movie?
Pascal - Yes, I was looking for something with a nice story and and a unique look. So I decided to try and do 'Malice in La-La Land' with a completely different story as a sexy fairy tale for adults. We took some characters from the two books and turned them into a 70's/80's atmosphere with some twisted ideas thrown in. Instead of a nice blonde girl we have a dark more gothic girl (Sasha Grey). For a cat we have a fetish guy who likes to take pictures with a giant cat head. Instead of a white rabbit we have a black, crazy, alcoholic rabbit (Steven pictured with Sasha).
We have filmed out in the desert, later we have a very nice strip club and today we are filming in an old abandoned hospital that has been used in several mainstream horror movies such a Saw. All of our locations have turned out beautifully so far.
How did filming out in the desert go for you?
Pascal - VERY hot and a lot of bad luck. We broke two 35mm cameras, mechanical breakdowns, cars would not start, some people got sun stroke; the conditions were not pleasant. Sasha was running around completely naked with only her bunny slippers on, Steven was dressed in his fur costume, everybody had a hard time. I got most of what I needed. We will have to do a couple of re-shoots and I will think twice before I go through that again.
You are using one of the industries biggest stars (Sasha Grey) in your lead role. Was that your idea going into this movie?
Pascal - Yes, when I started to work on this story I looked for a girl who was more "rock-n-roll", more gothic and Sasha really fit the Malice character so we contacted her specifically about doing the role.
(At this point we take a little break as two bicycle cops roll up to Sasha who is out in the parking lot in her bathrobe and bunny slippers. Pascal quickly moves them along.)
How is she doing so far in the role?
Pascal - She is doing very well, it is almost as if she only has to be herself. With her experience in mainstream acting her performance is really credible which is one of the reasons I chose her. Even today she is really sick, but she has to be a little bit dizzy as part of this sequence, so it is working out and she is pushing through.
What are we going to be seeing today?
Pascal - We are shooting the boiler room sequence where Malice (Sasha) is being chased by a guard as she attempts to escapes from the asylum with Steven's help. She will fall down an air shaft and end up out in the desert.
As filming starts up again I learn that in order to shoot in 35mm film you only get about 8 minutes of film per role so you are constantly changing canisters out. For the next few hours I watch Sasha and Steven get chased around the boiler room from several different angles while breaking the "chase" down into about four unique segments to make them easier to edit.
It is actually quite interesting watching how this must be done and learning how long it must have taken back when everything was shot on film.
Each segment has to be unique as far as the angle but the same in relation to where the actors are standing and what they do. You can not have someone close the door in one shot but leave it open in the next.
Between takes Sasha plops down in a chair with a box of kleenex near by or goes up to her trailer if the break is going to be long enough. Normally I would have been all over her on a set where she is wearing nothing but a bathrobe and bunny slippers but here I give her some space as you can tell Pascal was not kidding about her being sick.
Today is one of those days that Sasha shows one of the many reasons she won Performer of the Year and why the adult and mainstream press is so in love with her. It is not her beauty or sexual prowess (both of which are inspiring) that shines today but it is her simple professionalism. Even though you can tell it is a chore for her to go to set each time they call she does so without a complaint and once there she is not just some simple puppet doing as she is told trying to get it over with. She still asks questions and makes suggestions on how things might lay out trying to get the best possible performance for her employers.
After about five or six different angles on the chase scene Pascal calls cut around 6pm and I am amazed to learn that was all they were shooting today. Sasha is of course relieved she can go home now but still gives me a few minutes so we can talk about the movie.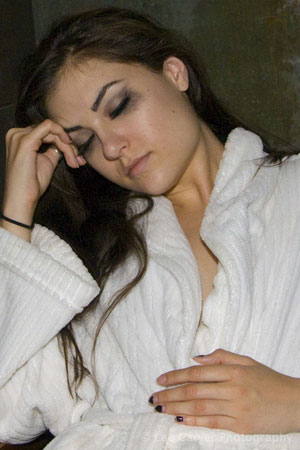 We have spent the day on the set on Malice in La-La Land starring Sasha Grey, a role some people might say is made for you.
Sasha Grey - Every role is made for me ;) It has been good we have been shooting since July 6th so this is week 3 and we are in the home stretch so it is exciting.
Did you re-read the classic books that inspired this movie before filming started?
Sasha Grey - I did not read them again no.
What did you think when they first pitched it to you?
Sasha Grey - When they first said it I was like...'are your serious'....but then they showed me their package and it pulls from it but it is most definitely it's own story as well.
So it was hard for them to get you to sign onto a movie that takes 28 days to shoot on 35mm film?
Sasha Grey - They said film and I was just so excited. I looked at the package they had. They had an outline, a script, they had everything. They even had a layout of the entire cast or everyone they had cast or wanted to cast. Production design, they just had it all laid out like a real film so it was just very exciting to work with a bunch of people who are really into what they were about to do?
Some of the costumes are not full plushy but at least partly plushy was that one of your motivations once you saw all the fur?
Sasha Grey - No, but it is exciting.
How was the desert?
Sasha Grey - The desert is cursed. At least the part we were in, which was Palmdale, it seemed like everyday on set something went wrong and with an hour and a half drive to set it is pretty hard to get talent, crew, cameras, directors... it is just hard to get everybody out there so we can get started at a decent time.
What sex scenes are you doing in this movie?
Sasha Grey - I already did one sex scene Kenny Styles, and I have one girl-girl and another girl-girl three way coming up as well.
Any of them in costume?
Sasha Grey - I don't think so.
So you are in a movie full of people in costumes but you aren't having sex with anyone in costume ...isn't there a rule against that?
Sasha Grey - There should be ...there should be.
How has the shoot been going for you?
Sasha Grey - It has been a lot of fun. It has been long days but everybody on set actually gets along and we are getting things done so it is nice.
How does it feel to be on a set where you can get done by 6pm because the director knows exactly where he is going from the beginning of the day to the end of the day and how he is going to do it?
Sasha Grey - It is one more thing that you do not have to worry about.
Thank you for your time. You go home and get some rest.