Alexis Texas On The Set of
Reality Blue's Superstar Showdown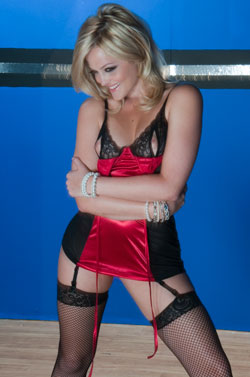 Alexis Texas – Hey, hey hey
I was here briefly yesterday you had to walk in and stare down each other. I think you have the edge there.
Alexis Texas – I got that mean look. :-) I am a mean looker.
You got the mean look and she kept smiling.
Alexis Texas – I will say that I will probably agree with you because in High School all the girls said they were afraid to come up to me because they said I looked mean but I am really nice.
You have some celebrity judges on set.
Alexis Texas – Yes, we have Joanna Angel and Monique Alexander.
I wonder do you have an unfair advantage with Joanna since she apparently wants to move into your ass.
Alexis Texas – :-) How funny. I don't think I have an unfair advantage. All the judges are great equally just because they are performers as well so they know how it is. Although she does like to live in my ass I am sure she would like to live in Tori's too.
Are you going to let her move in?
Alexis Texas – I told her that I would rent a room to her. I told her she would have to fill out an application but I told her I would do it. I don't know if she will really do it though. We will see. We will try to get a deposit from her today.
You are quoted as saying the best thing you can do in this business is stay humble. Considering all the awards and recognition you have received how do you stay humble?
Alexis Texas – I enjoy what I do and I love my job. My job is my job and when I am at home I am at home. I think that it really helps to have a distinction between two separate lives. One in the business and your own. To keep your own identity because it is easy to keep wrapped up in the fame and the praise. But at the end of the day everyone is the same as everyone else.
But you are in a movie called "Superstar Showdown"?
Alexis Texas – Yes I am but me and Tori are really good friends and we are both really great performers in different aspects. She brings to the table a lot of things that are different from me. We are two totally different girls. Are body styles are completely different and I think that is what makes it a showdown. Two good performers coming together to show what we have each of us have and how we showcase it when we perform in front of other people.
Did you ever convince the director that for this movie to succeed it MUST have a girl-girl scene with you and Tori?
Alexis Texas – I don't think so. We are still working on that one but I was told that we were going to bring back the "winners". I don't know how that is going to work. I don't know if they were lying to us just to shut us up but in some way shape or form Tori Black and I will have sex for this movie. Maybe they won't film it but we will sure get down and dirty.
That can be the ending. The "loser" congratulating the "winner".
Alexis Texas – EXACTLY! I like the way you are thinking.
Yesterday on set you got to experience something that you apparently really enjoy. An ass massage from Tori Black. How was her technique?
Alexis Texas – YES, she has really great hands. She is a pleaser. She is just one of those people who when I said my back and butt were hurting she was the first to get on her knees and service my booty so I will always love my Tori Black.
(editors note: Had any of us tried that we would have probably been booted off set. Being "Tori Black" does obviously have some percs"
I read that you wanted to start your own massage business?
Alexis Texas – You know I did back when I first came into the business. I was fascinated with holistic treatments and I wanted to get my massage license. I don't necessarily "not" want to anymore. I am just not sure the road I am on is necessarily geared towards that now. I do want to have my own business and have my own thing outside the adult business because it is good to dabble in other things as well. Now I am not sure I want to do that (the spa business) though. Now I am more leaning towards a bar and restaurant type of business back in Texas.
Back in Texas?
Alexis Texas – Yeah I want to go back to Texas.
Which leads into another question. Why isn't your website address AlexisTexaSS.com?
Alexis Texas – I do own that domain name. I did have a site that was AlexisTexass.com but my name is Alexis Texas so I just stuck with that one.
On your site you also have your Amazon Wishlist up.
Alexis Texas – I do.
How is that working out for you?
Alexis Texas – It is really fun actually. Everyone has been really great. I get things here and there from fans. My fans are really great. I actually had a couple who sent me gluten free pancakes because they know I have celiac's disease and I am allergic to it. My fans are very thoughtful and I love them and I thank them from buying me things from my wish list and being members of AlexisTexas.com.