Monique Alexander On The Set of
Reality Blue's Superstar Showdown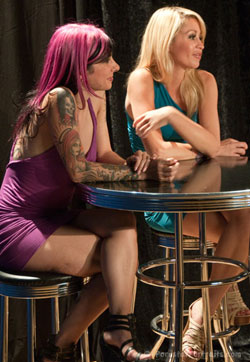 We are here on the set of Superstar Showdown with the very lovely and talented Ms. Monique Alexander and contrary to what you may think she is not one of the "superstars" doing the showdown.
Monique Alexander – Nope, not this time. I am a "superstar" judge.
During your opening interview you said you were here to "learn a few things" so far you have seen some solo and some blow-job scenes what have you "learned" so far?
Monique Alexander – I have learned that they can suck a really mean cock. I don't ever watch their scenes so it is fun to watch them. It was a little ackward at first but it is interesting to see other people's techniques. But I am not going to divulge my secrets.
You are not going to divulge any secrets?
Monique Alexander – Nope I am not going to tell you what I have learned.
Someone else is going to get a demonstration later?
Monique Alexander – Yes, watch for it. :-)
Now is this the first time you have judged a sex contest?
Monique Alexander – It is not really a contest. We are not saying who does it better and who doesn't do it better. It is just basically like their techniques so I would not really call it a contest. But it is the first time I have ever done anything like this. This is the first time I have ever just sat there and watched someone go full on through a scene. It is a little weird and I think it is going to get a little weirder when it is the girl-girl and boy-girl. That should be interesting.
I noticed you kept turning and watching the monitors.
Monique Alexander – That was because I could not see. I could not give my opinion if I could not see what was going on so that was the only way I could see it. Tori's hair got in the way for a little while but then she flipped it around and it was awesome.
What do you have coming up / going on?
Monique Alexander – MoniqueAlexander.com just got launched a few months ago. Feature dancing always and movies but right now I am really concentrating on doing webcams for the site and getting in touch with the fans.
What are your fans going to find when they go to your website?
Monique Alexander – They are going to find me. It is all exclusive content and only I own it. It is not something you are going to find anywhere else on the web.
Anything else?
Monique Alexander – No, not that I can think of… oh wait, the 2012 AVN Awards hosts should be me and Sunny Leone, I am just saying. Peace Out.
Follow Monique Alexander @
Monique Alexander Movies @