Mikayla Mendez - Last Call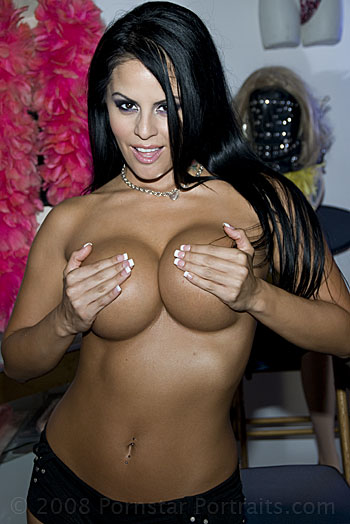 We are on a set of Last Call with Mikayla Mendez what is your role in today's movie ?
Mikayla Mendez - I play Sylvia and I'm just part of the evil plot gets against Scott. I work in a lingerie store with Elektra who plays the punk girl we kind of just mess with his head and all that fun stuff and then at the end end up at a sex party with him.
You said earlier on said that you always start sweating before a sex scene with Brad what is it about Brad to get you so worked up?
Mikayla Mendez - It is not necessarily just before a sex scene even when he is just around me I start sweating. I don't know he is just... I do not sort as much when he is not around I just makes me nervous.
I also noticed at the end of your sex scene you had the guys in the crew calling bids to be your cleanup guy is that normal?
Mikayla Mendez - I have never heard that, really? I did not know that.
I was only on set one day for your movie Sexy Bitch how did that work out?
Mikayla Mendez - It went really well. I was very happy. I like everybody I worked with and all the set-ups worked really well. My favorite... well I don't know if you can call up my favorites since I like them all but I like the one with me Jenaveve Jolie and Marco in an old-style barber chair, there was of course the girl-girl-girl-girl-girl scene which you saw which was totally awesome, and there was a scene downstairs in a hot tub with Danny that was all hot and steamy and he was really cute with the great accent. Then there was the creepy one; creepy in a good way though. It was just creepy because all three guys had masks on and they were kind of scary. But they were all dressed really nice and it was a kind of a blow bang scene. Oh and I did a solo scene where I was the photographer and the model and I was masturbating to myself.
You have worked with Brad and Francois. What about Jonathan, Stormy, Michael or Randy?
Mikayla Mendez - I worked briefly with Stormy in her last movie Operation Tropical Stormy. I worked with Michael Raven on The Wicked and Deceived . Jonathan I have not since I came under contract but right before then I did Se7en Deadly Sins for him.
I noticed you hurt your knee when did you do that?
Mikayla Mendez - That was at Lancaster California it was my first dancing gig since coming under contract with Wicked. It went a lot better than I expected there was a lot of people. I did not expect that since it is only a bikini bar. They serve alcohol so there is no nudity. I actually on my last set of the night or pasty is because I beg the manager to let me so I did not have to wear layers and layers of bikinis again. I had brought some friends with me and one of them was a really cute girl with nerdy glasses so I had her sit next to the stage and then I pulled her up onto the stage. So I brought her out up on stage and the guys went crazy because I faced the mirror and then took off my top and the guys in the club could not see so they all thought I was going topless but I was wearing the pasty's. So it was fun and I had a really good time.
I did not realize Lancaster was Bikini bar do they do features often?
Mikayla Mendez - I think I was one of the first ones but they are going to start doing them more often I believe. I'm fairly certain Daisy Marie is dancing there soon.
Was that your first-time dancing in a bikini bar?
Mikayla Mendez - It was but I had a really great time.
What else you have coming up?
Mikayla Mendez - I am not sure I think I may be working for Brad again in August but we are still deciding. Brad is not sure if you can handle working with me again. :) and then that is about it.
What did you think of Brad's I get to fuck Mikayla Mendez dance?
Mikayla Mendez - I actually saw it yesterday and it is pretty awesome.
Brad - I have but I have been doing that for a few days now.
Are you going to get it on video so you can play at home?
Mikayla just smiles.
Brad - She can just call me and I will come over and do it for her any time.